Personal Shopping Concierge Service
While I cherish the joy of shopping, working in retail has made me understand that this can be stressful and daunting for many. The benefit of using this service is I do all the work for you so you can enjoy the experience on the day. Working to your budget, I spend time in advance sourcing outfits and putting them aside for you in selected shops. This means we hit the ground running on the day, ensuring this is a time-efficient and highly personalised experience for you.
This experience works best as a follow-on from The Full Elevation Package, so I can check all your measurements against the clothes that I pre-select for you, as well as ensure I am selecting the right colours and style to tie in with your personality and colour palette.
What's involved:
I will work to a specific budget and brief (e.g. a "wow" outfit for a special occasion or help you build a capsule wardrobe). This will be very clear in advance of me pre-selecting your items (please note that I do not purchase items in advance; this experience involves shopping with you).
2-4 hours of 1:1 shopping time, depending on the depth of the brief, in addition to a refreshment break if required.
Cost: as this package is based around your bespoke needs, costs and time will be calculated to ensure all elements are covered. Please note that I also offer this as an online service (a shopping board with links so you can shop from home, if preferred).
Online version available.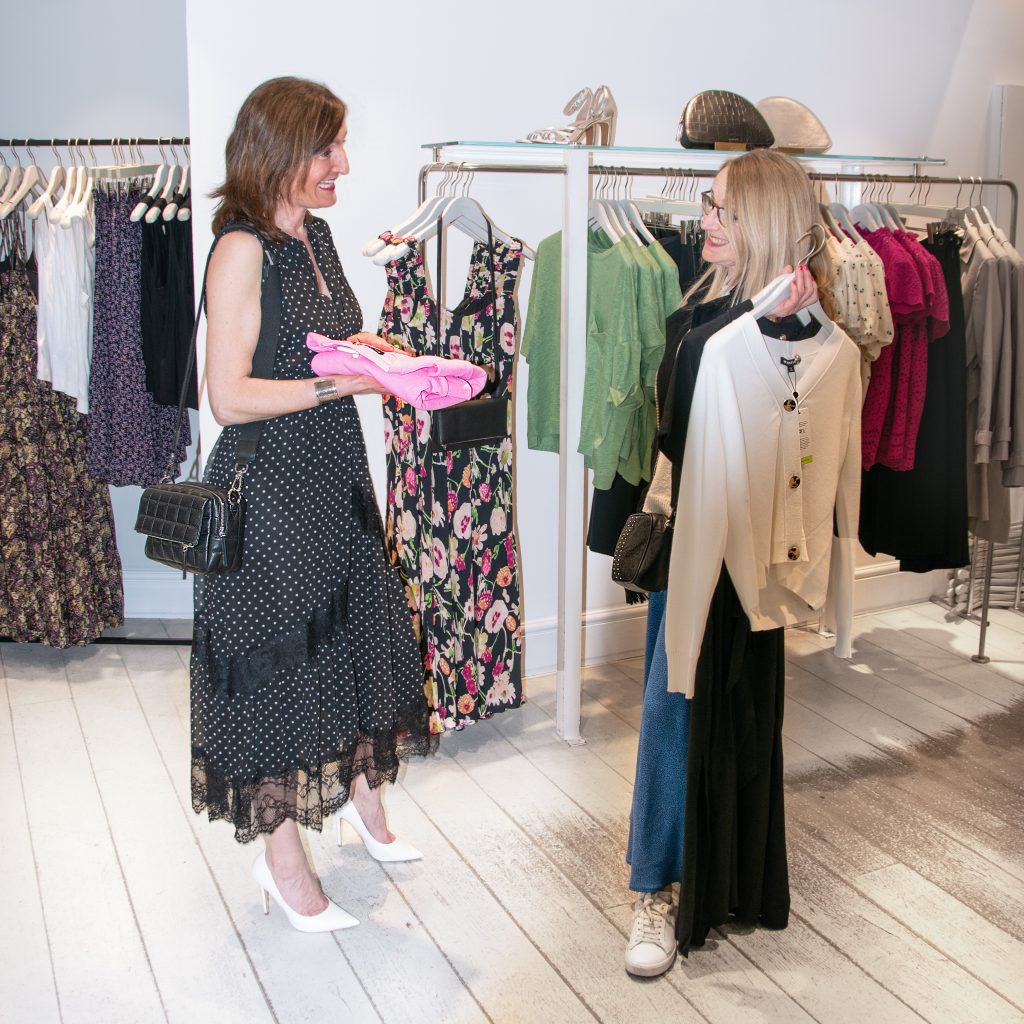 I am always inspired by Emma's natural ability at building authentic and genuine relationships with our customers. Emma not only understands how to work with different body shapes and use colours knowledgeably to complement each individual, Emma genuinely cares and spends time to get to know each customer, gently influencing, increasing their confidence and creating an open mind to endless possibilities!
SHONA, STORE MANAGER, WHISTLES EDINBURGH
HOW TO BOOK:
The first step is to make contact using my contact form. We can then discuss exactly what you need and tailor the services accordingly, and get you booked in.
To secure your booking, a 50% deposit is payable at point of booking – you will receive an invoice which is payable within 5 working days.
Full payment is required prior to the service taking place. Any extra hours undertaken will be billed after the session.
Location Notes (in-person services):
The styling services will normally take place in the client's house for comfort and ease (as I will normally check measurements in your gym gear), within a 45-minute drive of west Edinburgh. Any location in addition to 45 minutes will incur a cost for time and travelling expenses, plus any additional 1:1 time over the allocated time will be charged on an hourly basis (advised at time of booking).
The Wardrobe Edit takes place in the client's house. Personal Shopping is normally conducted in Edinburgh city centre. Corporate work is undertaken at their premises.